Our Team has an extensive knowledge base gained from experience in both private and government roles as well as exposure to and working on a variety of projects in size and nature.
COLIN PETHERS
PROJECT MANAGER | SENIOR REGISTERED SURVEYOR | DIRECTOR
Colin is a Registered Surveyor with broad industry experience across land development, construction and mining projects. Colin had 10 years' experience at Survey, a Newcastle based survey consultancy primarily dealing with construction and mining and land titling projects prior to working in the mining industry as a surveyor (underground and open cut coal); then as a mining engineer filling drill and blast roles, short term and strategic planning roles, and managing operational infrastructure projects in an open cut environment. Since joining de Witt Consulting, Colin heads up the de Witt Consulting project management team and provides senior registered surveyor support across the business.
JOHN WILSON
SENIOR REGISTERED SURVEYOR | DIRECTOR
John is a Registered Surveyor and Director with de Witt Consulting. John has over 10 years' experience in survey consultancy firms undertaking land development and construction surveys. John also has 2 years experience working on large Infrastructure projects as a Project Surveyor. Since coming aboard at de Witt Consulting John has managed the Charlestown survey section including overseeing various land development projects, multi level construction projects and survey resources for our major project works.
JASON LANDERS
SENIOR REGISTERED SURVEYOR | DIRECTOR
Jason is a Registered Surveyor and Director with de Witt Consulting. Jason has over 15 years of experience in a diverse range of surveying projects including land development, rail, roads, mining and general surveying consultancy.
MATTHEW de WITT
SENIOR TOWN PLANNER 
Matthew has over 14 years' experience in strategic planning, development management, policy preparation, statutory planning and the management of planning and development delivery both pre and post development approval phase.
EMMA MASON
PRINCIPAL TOWN PLANNER
Emma has over 13 years' experience in statutory and strategic planning, including seniors housing, public health facilities, road and rail infrastructure, childcare centres, port-related development, commercial and residential development. Emma is also accredited to prepare Crime Prevention Through Environmental Design reports.
CADE WHITEMAN
SENIOR SURVEYOR | SEWER AND WATER DESIGNER
Cade has 16 years' experience in sewer and water design industry along with the surveying industry. Cade is de Witt Consulting's sewer and water designer and holds Water Services Australia Accreditation with Hunter Water. He has experience with designs of water and sewer reticulation systems for new and existing subdivisions, gravity carrier mains, and minor works designs. Cade also has extensive experience with Hunter Water's works as executed requirements. Since joining de Witt consulting in 2010 Cade's main focus has been surveys for the construction of major infrastructure projects such as solar farms, conveyors for mines, water pipeline and sewerage systems, railway passing loops and railway stations.
MARINA BUDISAVLJEVIC
SENIOR TOWN PLANNER
Marina is experienced in various industries including property development, mining, resources, renewable energy and transport. In addition to statutory and strategic planning, her capabilities include GIS, Landscape & Visual Impact Assessment, and Community & Stakeholder Engagement.
CAITLIN DUNLOP
TOWN PLANNER
Caitlin is experienced in a variety of development approvals including subdivision, residential developments, commercial premises, crown land developments, education and health developments.
LIBERTY PANNOWITZ
TOWN PLANNER
Liberty is experienced in development planning and certification industries ensuring she is well versed in the processes for various types of approvals, consents and modifications for a variety of residential, commercial and industrial developments and subdivisions.
MARK HEALEY
SURVEY COORDINATOR | SENIOR SURVEYOR
Mark has 15 years of experience in the surveying industry. 11 years as a Surveyor in Cadastral, Engineering, Construction and Rail projects, and 4 years as a Surveyor in Underground Coal. Since joining de Witt Consulting in 2014 Mark's main focus has been surveys for major infrastructure, scanning projects, large scale detail surveys, construction projects and managing projects of various size and scale on a day to day basis.
CLAYTON COLBERT
SURVEY MANAGER | REGISTERED SURVEYOR
Clayton is a Registered Surveyor with 10 years' experience in survey/development consultancy firms including small to large scale subdivisions, easement plans, and a variety of construction and infrastructure projects. Clayton has worked in rural and urban areas completing projects in the road, residential, commercial, mining and industrial sectors.
LEE DAVIDSON
REGISTERED SURVEYOR
Lee is a registered surveyor with 10 years' experience in survey/development consultancy firms undertaking such tasks as boundary, detail and construction surveys. Lee has worked on rural and urban projects in the road, rail, residential, commercial, mining and industrial sectors.
NICK SPACKMAN
SENIOR SURVEYOR

Nick has over 15 years' experience in the Survey industry. During this period, he has spent 10 years as a project surveyor on several major construction projects throughout NSW and QLD. Since joining the de Witt consulting team in 2015 Nick has worked on and managed multiple construction projects in the hunter region as well as cadastral surveys, detail surveys and other general consultancy survey work. Nick has extensive experience performing surveys to RMS construction specifications including performing several roles as a subcontract RMS auditor. Through Nick's project work he has gained extensive experience in machine control guidance, GPS site equipment, volumetric surveys and calculations, minor design and modelling of civil works, control surveys, setout and conformance of concrete structures and pavements.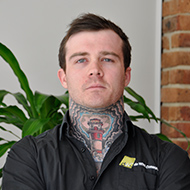 BEN THOMAS
DRAFTING MANAGER | 3D MODELLING & LASER SCANNING TECHNICIAN
Ben is a Senior Draftsman and has been at de Witt Consulting since 2010, in that time he has gained experience in all aspects of survey drafting, 3D laser scanning including the use of point cloud data and 3D Revit modelling. Ben's key abilities lie in the use of technical programs such as Autodesk Revit, Leica Cyclone and 3D reshaper to deliver high end 3D Revit models, point cloud and monitoring surveys.